Overview:
The global pomegranate market is valued for more than US$ XXX.X Mn in 2019 and expected to reach a value of US$ XXX.X Mn by 2029 with a significant CAGR of around XX.X% over the forecast period of 2019-2029. Pomogranate is a fruit which is rich in antioxidants and vitamin C. The fruit is very healthy and beneficial for human body. The fruit and plant both have various medicinal benefits. Pomogranate is consumed to treat high blood pressure, heart disease, diabetes, and also consumed to improve the performance of athletes. However, there is no any scientific evidence available to support many of these benefits of pomegranate.
Market Dynamics:
Growing consumption of pomegranate fruit to reduce the impact of diabetes and blood pressure is a key factor driving growth of the global pomegranate market. Pomogranate fruit is rich in vitamin E and vitamin C which helps to reduce nerve issues and act as antioxidant. The vitamin C plays major role to reduce the risk of heart disease. Hence, the consumption of pomegranate fruit is growing in many countries across the globe.
In addition, rising awareness about health benefits of pomegranate among individuals is another key factor supporting target market growth. Also, rising incidence of chronic disease across the globe is another key factor propelling growth of the global market. For instance, as per World Health Organization (WHO), currently around 1.13 billion individuals across the globe are living with hypertension.
Moreover, growing trade of pomegranate across the globe is among the other factor expected to result in growth of the global pomegranate market in the near future. However, certain environmental changes and instances of heavy rainfall in some countries is affecting the production of pomegranate.
Key Trends:
Change in supplier countries in the pomegranate trade is a key trend witnessed in the global pomegranate market. For instance, for Ukraine the Europe was the leading supplier of pomegranate however, from few years Turkey has raised its contribution in the supply of pomegranate in the Ukraine market. For example, the share of Turkey in pomegranate import in Ukraine has been increased from 70% in 2012 to 92% in the year 2016.
Regional Analysis:
For detailed understanding of market dynamics, the global pomegranate market is analyzed across key regions viz. North America, Europe, Asia Pacific, Latin America, and Middle East & Africa. Asia Pacific is holding major market share in the global market in 2019 and is expected to maintain its dominance over the forecast period. This is attributed to presence of large consumer base in countries such as China and India in the region. In addition, growing production of pomegranate in countries in the region is another factor propelling growth of the target market in the region.
However, the pomegranate market in the North America region is expected to witness significant growth over the forecast period owing to rising medicinal use of pomegranate in various healthcare products.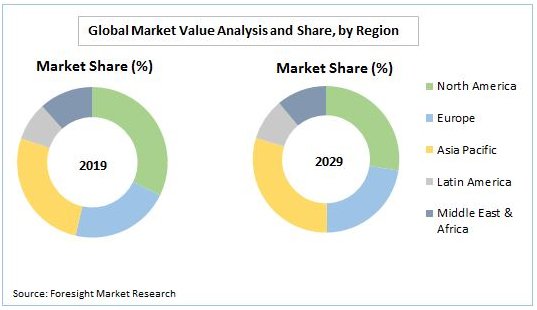 Scope of the Report:
| | |
| --- | --- |
| Report Feature | Details |
| Base Year: | 2018 |
| Projection Period: | 2019-2029 |
| Market Details: | Total revenue and forecast, CAGR, Market value, share, and Y-o-Y growth by segment and region |
| Segment Covered: | Type and Application |
| Region Covered: | North America, Europe, Asia Pacific, Latin America, and Middle East & Africa |
| Report Coverage: | Market growth driving factors, challenges & pitfalls, opportunities, trends, key players analysis, and region analysis |
Detailed Segmentation:
Global Pomegranate Market, By Type:
Pomegranate Powder
Pomegranate Juice Concentrate
Global Pomegranate Market, By Application:
Food Industry
Cosmetics Industry
Pharmaceutical Industry
Key Players Covered:
Key players operating in the global pomegranate market includes The Coca-Cola Company, Wonderful Company LLC, Aznar (Grante), TTM-Food, Lakewood Inc., Rasanco Limited, Milne Fruit Products Inc., Ocean Spray, Ingredion Incorporated, and PepsiCo, Inc.
Key Features of the Study:
Foresight Market Research provides detailed analysis on global market in our report- Global Pomegranate Market by type, application, and region. The report provides market size (US$ Mn) and compounded annual growth rate (%) for the forecast period: 2019 – 2029, considering 2018 as the actual year. The report also contains in-depth analysis about market drivers, restraints, opportunities, new product launches, product approval, ongoing trends, and regional outlook. The report delivers competitive analysis about leading players in the global pomegranate market based on various parameters such as company overview, product portfolio, regional presence, financial performance, distribution strategies, key developments, marketing strategies, and future plans. The analysis from the report would acquaint the marketers and management authorities of companies to make the appropriate decision with respect to their future product launch, market expansion, and marketing tactics used overall the globe.